The High School Football Scoreboard Show
The High School Football Scoreboard Show began in 2000 as the brainchild of Host, Mark Ritchie. The show features 'live' callers with never a dull moment conversations and Mark keeps the listeners entertained with interesting sports facts and of course 'scores'. Co-host, Colin "Big C" MacGuire, came on board in 2007, offering his unique experience and insight into the ins and outs of high school football. The Show runs every Friday night during the HS Football season from 10pm-12am and runs thru the semifinal round of the AHSAA Playoffs. Primary focus is on south Alabama teams during the regular season. During season playoffs Mark and Colin focus on all the playoff games in both AISA and AHSAA.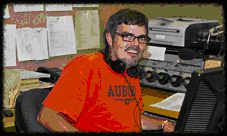 Mark Ritchie
Mark Ritchie was born in December of 1963, yes, just like the song "Oh What a Night" by the 4 Tops. And – His parents would agree! Born in Tucson, Arizona and a graduate of Northern Arizona University in Flagstaff, Mark moved to Greenville in February of '91 and has been with Q94 ever since. His first day on the air, the sheriff of Butler County got shot at the courthouse! What a start! He has hosted the High School Football Scoreboard Show since 2000. He and his wife 'Diane' have 4 grandchildren. WDE!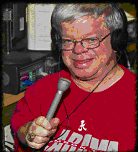 Colin MacGuire
Colin MacGuire, better known as Big C, was born in August of 1957. He graduated from Fort Dale Academy, Marion Military Institute and the University of Alabama. Big C was the wrestling manager at Alabama from 1977-1978 and was football manager under Coach Bear Bryant in 1978-1979 when they won back to back National Titles. He has co-hosted the High School Football Scoreboard Show since 2007. RTR!!